It is time for spring to arrive. (And everybody said amen.)
I don't care what that darn groundhog said earlier in the month, this week (and for weeks prior) it has been entirely too cold in Virginia. Yes, I know that it is winter and yes, I know about the polar vortex, but enough is enough. Who can I petition for warmer weather? My mom would tell me to simply put on more layers but when I'm already wearing socks, pants, two layers of shirts AND a scarf and I still find my office too cold to function, I don't think my state of dress is to blame. Although, this someecard accurately sums up my feelings on shivering as a cardio activity…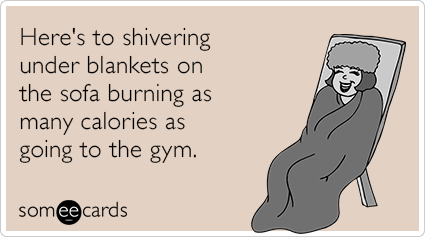 Okay, okay, enough with my whining… it's time for Happies and Crappies!
Happies:
– It's THON weekend! Today at 6:00 pm EST, 700 college kids will stand up on their feet and won't sit down until Sunday at 4:00pm in an effort to end childhood cancer. During my time at Penn State, I was involved in the world's largest student-run philanthropy, The Penn State Dance Marathon. If you haven't heard about it, it's a year-long fundraising effort that culminates in a 46-hour no-sleeping, no-sitting marathon. Last year alone THON raised over 12 MILLION dollars to benefit the Four Diamonds Fund, an incredible foundation that emotionally and financially supports families of children with pediatric cancer. The joy, magic and wonder of THON are hard things to explain with words, but this video does a pretty fabulous job of showing what it means to be For The Kids!
– This past week I did something that will alter the course of my life for at least the next month. I started watching the political drama House of Cards on Netflix. If you are looking for a new addictive series to get into and/or a place to pour a solid 24 hours of your life, this is it. The best part is that Netflix just released the second season last Friday, so I have plenty of episodes to binge watch—I mean—view one by one for the next few weeks.
– Two words: mashed cauliflower. Have you tried this yet because it is literally the best thing since mashed potatoes but (sort of) guilt free! I may or may not have accidentally eaten an entire cauliflower head smashed up with garlic the other day. No regrets, y'all.
Crappies:
– It's THON weekend, and this is the first time in five years that I won't be in Penn State's Bryce Jordan Center for the magical event. I am so bummed that I won't be able to support my friends who are dancing and leading the event in person, and it will be so strange to watch this year's fundraising total be revealed through the live stream on my computer instead of next to my closest friends with tears of joy in my eyes, but THON isn't about a spirit, not a place, and I can't wait to celebrate along with the rest of Penn State from afar.
– If you live anywhere on the east coast, then you know it has been entirely too cold for entirely too long. I  keep looking at the forecast, hoping for signs of spring to show but no luck. I can't wait for all of this snow to melt and for the sun to start setting later and later. Warmer weather means running outside, reading in my backyard and spring engagement sessions—and that makes me one very happy photographer.